Starting dosage
New THIOLA EC is formulated to help patient compliance
Larger dosage strength—300 mg—may help reduce pill burden.1
Two dosage strengths—100 mg and 300 mg.1
Patients have the freedom to take their dose with or without food.1
THIOLA EC dosage should be based on the amount required to reduce cystine below its solubility limit, generally <250 mg/L.1
Recommended starting dosage of THIOLA EC1
Adults:
May begin at
800 mg/day
Children ≥20 kg:
May begin at
15 mg/kg/day
Patients with a history of severe toxicity to d-penicillamine may start at a lower dose.1
Taking THIOLA EC with food may decrease the effect by approximately 25%.1
THIOLA EC should be taken in 3 divided doses per day, the same times each day.1
Patients should also maintain a routine pattern with regard to meals.1
THIOLA EC tablets must be swallowed whole.1
THIOLA EC should be dosed to effect based on the results of a 24-hour urine test.1
Avoid dosages >50 mg/kg per day in pediatric patients.1
The dosing calculator can assist you in determining the appropriate dosage for your adult patients.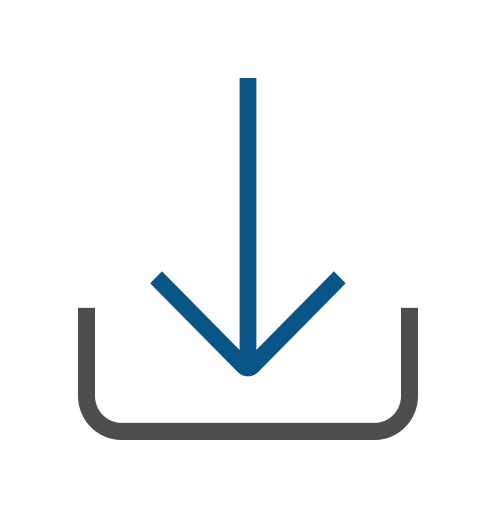 Prescribe THIOLA EC.
Download and complete the THIOLA EC Total Care Hub® enrollment form to get started today. For any questions or help with the enrollment form, call 844-4-THIOLA (844-484-4652).
Dosing calculator
Optimize dosage of THIOLA EC with the adult dosing calculator*
This calculator is intended as a guide for THIOLA EC dosing in adults. This calculator is an aid to assist with dose calculation. It is important to consider other factors including urinary pH, urinary output, and urinary cystine concentration when determining an appropriate dose.
In clinical studies, the average adult dosage was approximately 1000 mg/day.1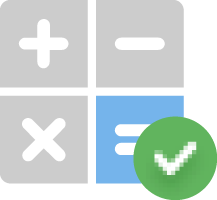 The solubility limit of 250 mg/L is based on a urinary pH target goal of 7.0.2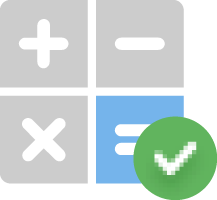 Cystine solubility is dependent on pH values.2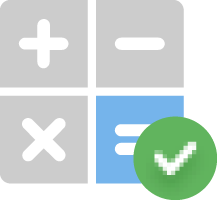 A minimum urine output of at least 2.5 L/day on a consistent basis should be sought.2

Monitoring response
The importance of monitoring
THIOLA EC

response

A 24-hour urine collection to measure urinary cystine level should be performed1,3: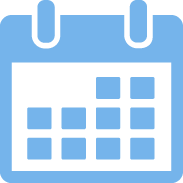 1 month
after starting THIOLA EC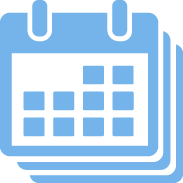 Every 3 months
thereafter
Adjust THIOLA EC dosage to maintain urinary cystine concentration <250 mg/L.1
Assess for proteinuria before treatment and every 3 to 6 months during treatment.1
Discontinue THIOLA EC in patients who develop proteinuria and monitor urinary protein and renal function. Consider restarting THIOLA EC treatment at a lower dosage after resolution of proteinuria.1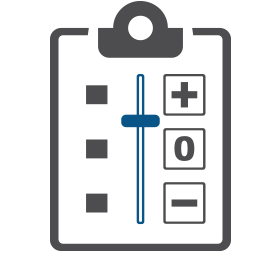 Adjusting dosage
Adjusting THIOLA EC dosage
Routine monitoring of patients' cystine levels is critically important to ensuring they are on the right dosage of THIOLA EC.1,5 As patients' 24-hour cystine and urinary output may fluctuate over time, adjust THIOLA EC dosage to maintain urinary cystine concentration <250 mg/L.1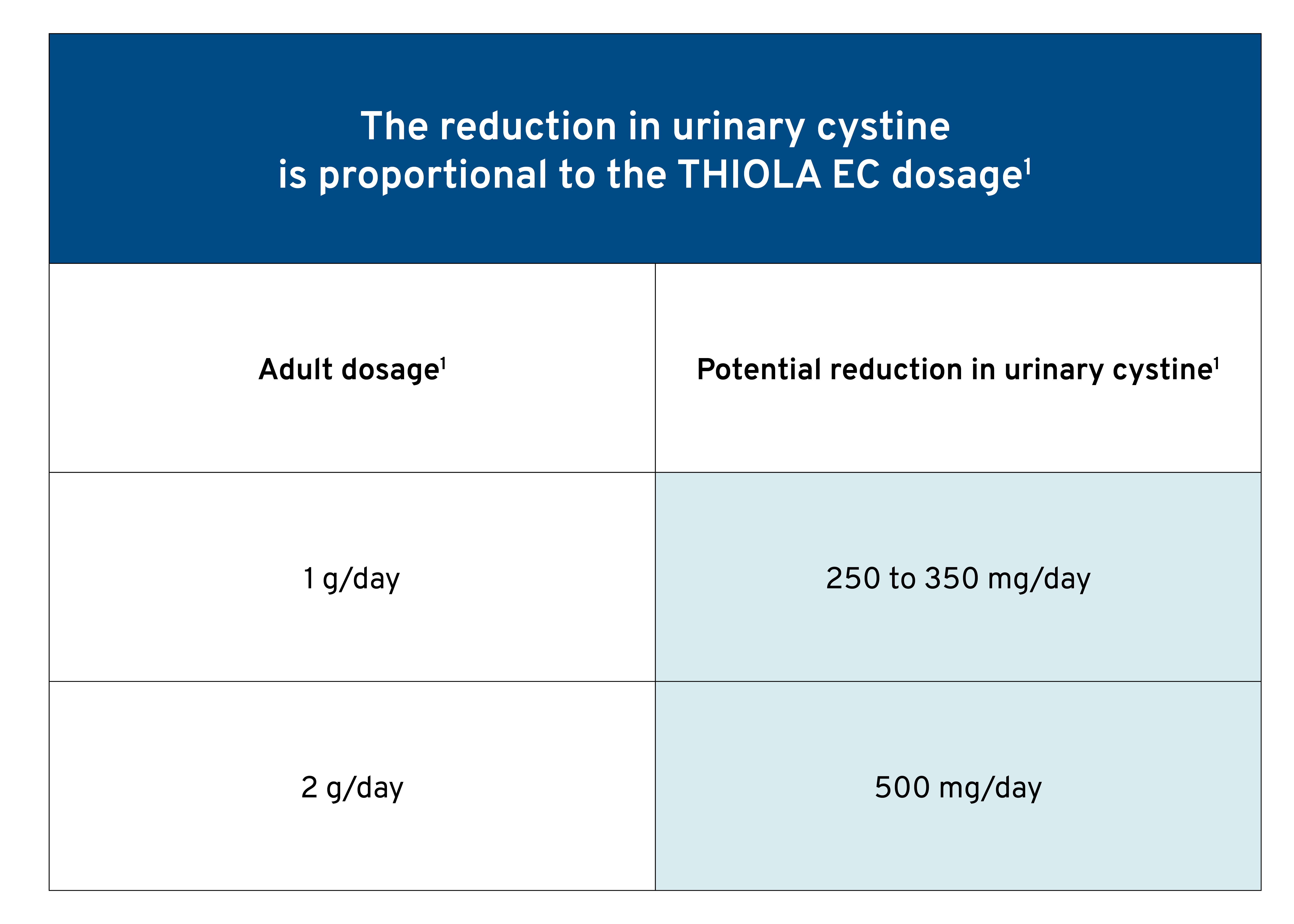 American Urological Association guidelines recommend patients should continue with high fluid intake, alkali, and diet modification and maintain a urine pH of 7.0.2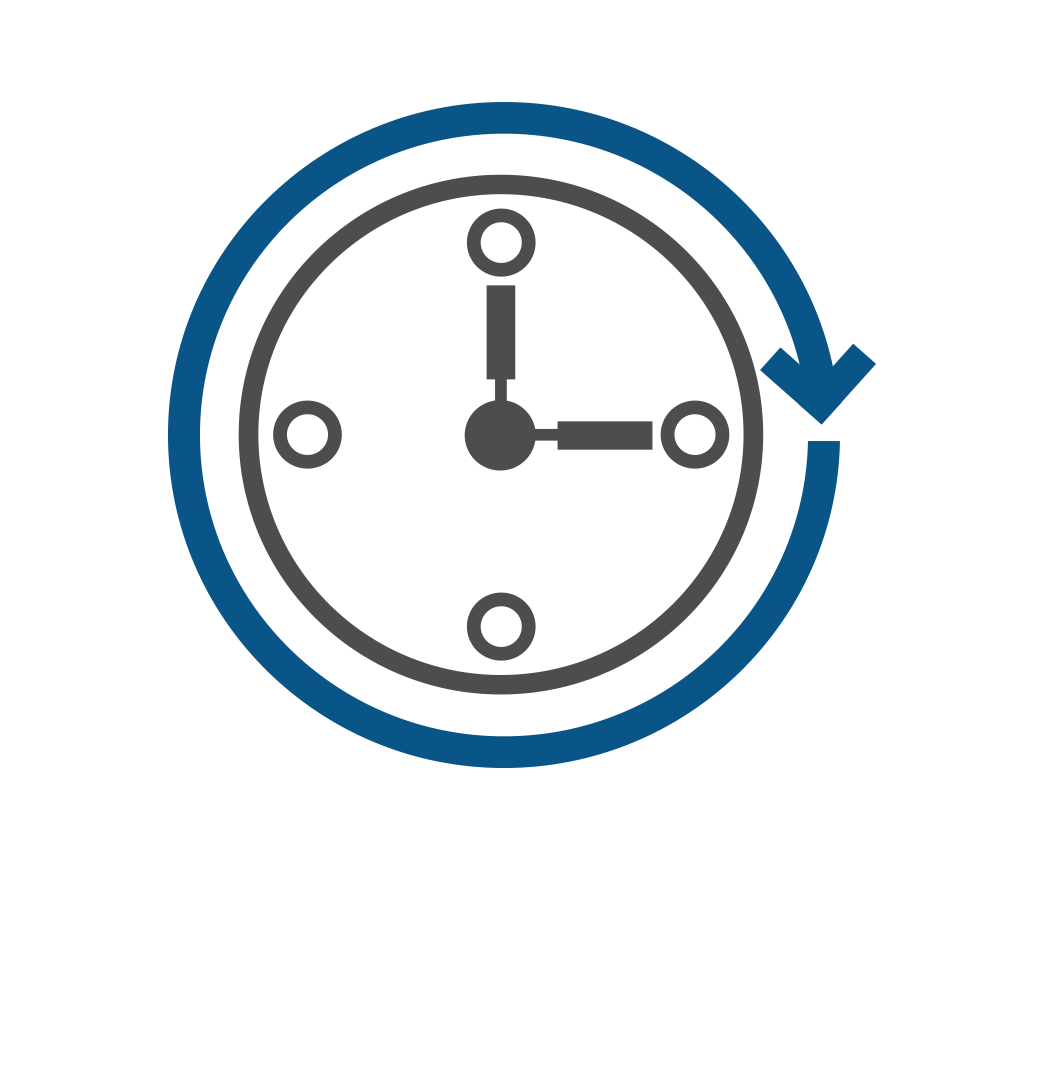 Routinely monitor cystine levels with 24-hour urine tests to find the right dosage for your patients.1,5
References: 1. THIOLA EC [package insert]. San Antonio, TX: Mission Pharmacal Company. 2. Pearle et al. J Urol. 2014;192(2):316-324. 3. Knoll et al. Pediatr Nephrol. 2005;20(1):19-24. 4. Claes et al. Pediatr Nephrol. 2012;27(11):2031-2038. 5. Biyani et al. EAU-EBU Update Series. 2006;4(5):175-183.
INDICATIONS AND USAGE: THIOLA® EC (tiopronin) delayed-release tablets is indicated, in combination with high fluid intake, alkali, and diet modification, for the prevention of cystine stone formation in adults and pediatric patients ≥20 kg with severe homozygous cystinuria, who are not responsive to these measures alone.
Important Safety Information
CONTRAINDICATIONS: THIOLA EC is contraindicated in patients with hypersensitivity to tiopronin or any other components of THIOLA EC.
WARNINGS AND PRECAUTIONS:
Proteinuria: Proteinuria, including nephrotic syndrome, and membranous nephropathy, has been reported with tiopronin use. Pediatric patients receiving >50 mg/kg of tiopronin per day may be at increased risk for proteinuria. Monitor patients for the development of proteinuria and discontinue therapy in patients who develop proteinuria.
Hypersensitivity Reactions: Hypersensitivity reactions (drug fever, rash, fever, arthralgia and lymphadenopathy) have been reported.
ADVERSE REACTIONS: The most common adverse reactions (≥10%) are nausea, diarrhea or soft stools, oral ulcers, rash, fatigue, fever, arthralgia, proteinuria, and emesis.
DRUG INTERACTIONS: Avoid alcohol consumption 2 hours before and 3 hours after taking THIOLA EC as THIOLA EC is released faster in the presence of alcohol.
SPECIFIC POPULATIONS:
Lactation: Breastfeeding is not recommended during treatment with THIOLA EC.
Geriatric Use: Because elderly patients are more likely to have decreased renal function, care should be taken in dose selection, and it may be useful to monitor renal function.
You may report negative side effects to Retrophin® Medical Information at 1-877-659-5518, or to the FDA at 1-800-FDA-1088 or www.fda.gov/medwatch.
Please see full THIOLA EC Prescribing Information.